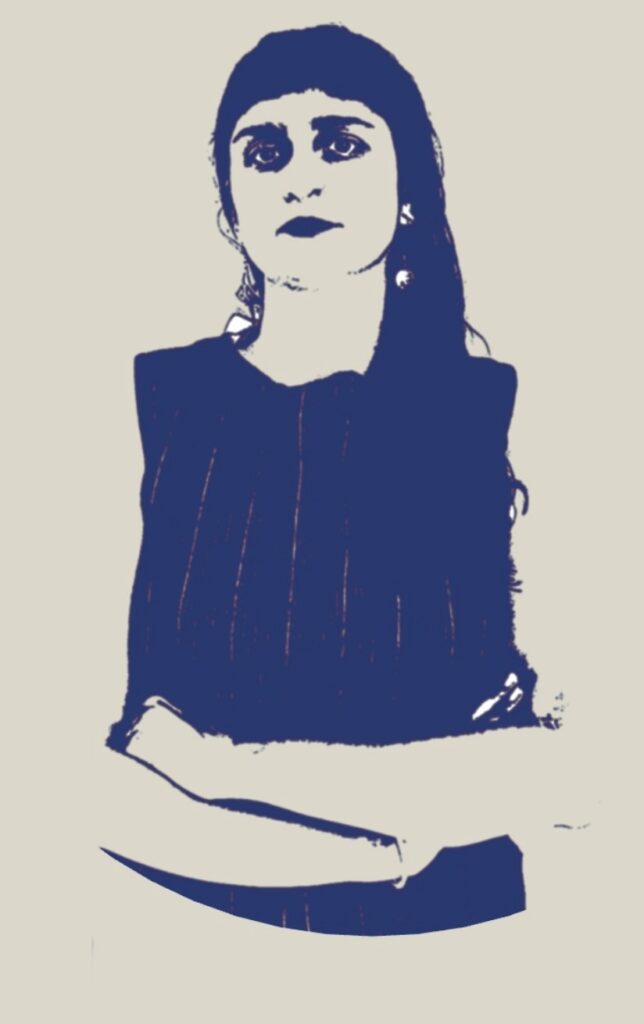 Nazanin Mehraein b.1989 is a multidisciplinary artist coming from theater background based in Vienna. She works on storytelling in different ways from painting to video, video mapping, sound, sculpture, installation and performance. She works usually on autobiographical stories related to the present place both ways historical and political. Her focus currently is mostly on personal narrative and personal reflection on visual mapping(urban spaces) and video making.
CV
farsi/german/french/english

*Works have been selected.
Education
2020-22 University of Applied Art Vienna, Master of Transdisciplinary Arts
2017-20 University of Applied Art Vienna, Bachelor of Transdisciplinary Arts
2008-2013 University of Fine Arts, Tehran, Bachelor of Arts (Theatre, Specialty of Puppet Theatre)
Performance/ Theater
2022 "Quasi", EU Tour: Point Commun Cergy, Paris. Beurse Brussels, Kasarne Basel, visual and sound
2021 "white money", visual and sound, Sophiensaele Berlin Germany
2020 "MAY.BE, was sein darf", Schubert Theater, Performer, Puppeteer, Visuals, Vienna Austria
2019 "Titan", Theater performance, Auditorium VZA7, Vienna Austria
2019 "der Körper veraändert sich", School project, Lilarum Vienna, Director
2019 "Azdirmach", RuckiZucki Festival, Lilarum Theater, Vienna Austria
2015 "All Blue", Moj-e-no theater hall Tehran, performer
2015 "Re-Shape, Digital Performance Tehran Iran
2015 Nectar, Azadi Tower, performer, Tehran Iran
Mixed-media Works
2020 "Unhomely"- Mardomak Poster Installation, Fluc Vienna Austria
2020 "Mira/ó", Video Installation, Angewandte Festival Vienna Austria
2020 "No One Knows", Installation, Krinzinger Projekte, Vienna Austria
2018 "Scheherazade's Suitcase", puppetry animation, Joachim Festival, Vienna Austria
2019 "Geometric Generation", Installation, Fluc Vienna Austria
2019 "AliQapu", sound piece, Angewandtekunst Festival Vienna Austria
2019 "44100", Sculpture Performance, Performer, Street art Vienna Austria
2018 "The lost hour", sound piece, Kunstradio ORF, Vienna Austria
2018 "Loud, Loud, Clouds! ", Installation, Pferd Gallery Vienna Austria
2018 "Echoes of the Bones", Installation, gallery Rustenschacheralle, Vienna Austria
2017 "Diamant Project", Kunsthaus Eröffnung & MAK Biennale, Project Manager, installation, Vienna Austria
Very first work 2004 "D'une amitié", Short Film, Actress, Tehran Iran
Dance courses attended
2018 Ritual and Dance Keith Henessy, Impulstanz, Vienna Austria
2017 Animal Bodies, Doris Ulrich, Impulstanz, Vienna Austria
2013 Instruction to forget, Itana Cordero Impulstanz, Vienna Austria
2013 Where Is Home, Katerina Bakazaki , Vienna Austria
2011-14, Contemporary dance technic and concept Basic- Advance
Articles and Books
September 2021 "From Balcony to Living room " Illustration, Charsoo publisher Tehran Iran
December 2019 From an Image to performance: dramaturgy for image-based performing, MOIN-MOIN Revista de estudos sobre teatro de formas animadas, Brazil
October 2013 No.20 Reportage of Festival of Avignon/ Tajrobeh magazine, No 23, Tehran Iran
Residencies, Festivals, Fellowships
2022 Wepuppet, Celebration: The story of a rebirth, Alberta Canada
2021 Pact-Zollverein, Theater and Environment, Essen Germany
2020 Brunnenpassage, Artists are Present, Kunstresidenz Vienna Austria
2019 Archa Theater summer school, Theater in Social Context, Prague Czech Republic
2019 Joachim Festival," Scheherazade's Suitcase", puppetry animation, Vienna Austria
2019 Tea, Sate Storytelling Speaker Prize, Seattle USA
2015 8th Asia-Pacific Bureau Theater School Festival, Singapore
2015 Avantgarde Puppetry workshop with Theodora Skipeters
2013 ImPulsTanz, Turbo scholarship, Vienna Austria
2013 Avignon Theater festival Scholarship, Paris-Avignon France
2010 University of Tehran: Mime Workshop Marcel Marceau Mime school, Tehran Iran
Work with children
2022 Hernalser Gymnasium , Theater Ws, 11 y, Vienna Austria
2021 Breitenweida Musikschule, 7-15 y, Theater Ws, Vienna Austria
2019 Volksschule 9-10 years, Vienna, Theater Ws, Vienna Austria
2016 6th Babel F.A.S.T, Multimedia Theater Ws, Age 15-16, Targoviste Romania
2016/2017 Erdberg Refugees House/ wood Ws, Adults, Vienna Austria
2015 SEMPAD school, Theater Ws, Tehran Iran
2010 / 2012 Social Internships & Voluntary Service, Theater Ws, Tehran Iran
©2022